Results For Domestic and International Businesses Since 1975
Our Proven Process Produces Results
1. MEETING
If you are unfamiliar with retail in Canada, we would be happy to discuss the potential of your products in our marketplace.
2. PLANNING
We help you get your product ready for Canada.  No two markets are the exact same.  We have been working in the Canadian retail market for over 40 years.
3. EXECUTE
We know what your products need to hit the Canadian retail market strong.  From packaging compliance to back-end programs, we have you covered.
4. TESTING
We continually test our sales approach with all of our products.  Online, regular stocked items, in and out promotions and catalogue/flyer opportunities.
5. DELIVERY
We have the experience, determination and intelligence to get your products where you expect them to be and in the hands of your target consumer.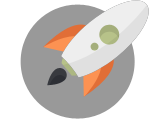 We're Here To Help Business's Blast Off In the Canadian Market.
Through Creative Ideas, Innovation & Sheer Determination